Cornerstone Automation Systems (CASI) is a renowned company that offers solutions in the design, building, and engineering of order fulfillment automation systems. Among some of the most advanced and highly-sought products that CASI offers are sortation systems. These sortation system products, which are part of CASI's intelligent automation systems, are used for processes focal to warehousing, order fulfillment, and supply chain management.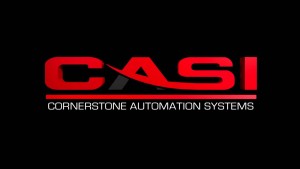 Further along in CASI's ever-evolving spectrum of automation solutions is the manufacturing of large cases systems, item level sortation, mailers, and parcels. The company also offers typical applications that include zone routing, carrier sort, reject systems and sort-to-order applications.
The sorters from CASI have a specific rate of movement per minute influenced by the item weights, lengths, gapping between products and conveyor speeds. The company offers turn-key sortation systems that deal with CASI conveyors, software, and controls, which are all configured to attain and match their client's requirements.
Additionally, CASI offers highly-specific sortation system applications, such as common carrier sortation, merge and singulation conveyors, zone routing, sort to order and pick in bulk, shipping, carrier and conveyor sortation and receiving and returns processing. Below we go into greater detail about some of the CASI sortation systems and product solutions.
SM100 Pop-up Sorter Machine
SM100 pop-up sortation system is a 90-degree sortation system which works incline with a ZPA roller conveyor in order to make sortation of heavy parcels and cases easier. It is a reliable bi-directional and low maintenance sorter that is delivered from the rugged CASI core controller while using PC applications that need labeling and sorting functions. The sorter has been considered to be an alternative to conventional diverts at rates that are lower than 40 cartons per minute.
In case of any conveyor reject, the rate of carton per minute is affected by item weights, lengths, required cap and the conveyor speed. The SM100 Pop-Up sorter system makes use of applications that include carrier sortation, inline shipping, tray sortation and tray sortation.
SM150 Overhead Sortation System
CASI Sortmaster (SM) 150 is a sorting system is an all-electric design system that sorts both the parcels and products up to 150 per minute. The system also sorts laminated sheets, media applications, and books. It does not require any air and has a seamless integration and implementation of the products. The SM150 Sorter has been considered to be a reliable poly bag sorter. The sorting system uses applications such as tem sortation, poly bag sorter, ship sorter and book and media sortation.
SM130 Heavy Duty Pusher Sorter
The SM130 is a pusher sorter that is designed in such a way that it rejects cartons from any specific conveyor. It helps in avoiding the cutting conveyor and when the box weighs up to 75lbs. It sorts both lighter and heavier cartons. The SM130 sortation systems work with applications that include exception handling and parcel sortation.
CASI Shoe Sorters
The shoe sorters from CASI are an advanced sortation system technology that effectively uses high speed sorting functions even with products such as cartons with glass and electronics that are always fragile. The system is made in a way that it diverts multiple shipping lanes, rejects the systems for questionable content and the custom applications.
Merging Conveyor Systems
Merging Conveyors and singulations systems are essential when products are consolidated ready for shipment. Merging conveyor systems integrate pushers and diverts as well as belt technology to create smooth single flow. The Merge Conveyor sortation systems have been designed in such a way that it handles bags, envelopes, small pouches and parcels. The automated sortation system ensures the tracking of products from their starting points and singulates the products to one piece of flow. The typical system replaces manual operators and processes approximately 20 pieces per minute.
Cross Belt Sortation System
The Cross Belt sortation system is essential for the sortation of items and allows the pick-in bulk of products and sorts them to order. The system sorts out small, fragile and large parcels and books and then ensures that the sort destination offers verification which can be assigned dynamically based on the changes in demand.