When it comes to addressing ailments and conditions of the spine, many individuals are confused as to whether they should consult an orthopaedic surgeon or a neurosurgeon. It is important for patients to note that both the orthopaedic surgeons as well as neurosurgeons can perform spine surgery. Recently, there is an emerging field in spine surgery that integrates both specialties.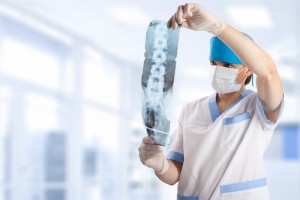 In trying to examine the future of X-ray imaging, there may be a medical specialty in spine surgery that is well defined by its own board for certification. This is not the case at the moment; however, depending on the spinal condition, an orthopaedic surgeon or a neurosurgeon may be best set sought.
Orthopaedic surgeons seek their certification from the American Board of Orthopaedic Surgery while the Neurosurgeons currently seek their board certification from the American Board of Neurological Surgery. It is important for patients to make sure that any Doctor they choose is certified by the right board. Let's dive into this a little bit deeper.
The Training of Neurosurgeons
All the neurosurgeons that are trained in the United States as well as in other places abroad, gain their experience in the diagnosis, nonsurgical as well as the surgical treatment of all disorders relating to the spine during a six to seven year of residency training program. The moment these physicians graduate from any of the accredited neurosurgery training program, they have always succeeded in giving their assistance to many spinal procedures they are exposed to.
Neurosurgeons can choose to acquire even more advanced training, they might also choose to select from a post-graduate fellowship in spine surgery. Most patients think that neurosurgeons are brain surgeons as it might be interesting to know that most of the operations that are performed by neurosurgeons all across the world are spine surgeries
The Training of Orthopaedic Surgeons
Orthopaedic surgeons are surgeons that study spine surgery in their four to five years of training. Most orthopaedic residencies are located at hospitals where several orthopaedic surgeons who are specialists in spine surgery. In other orthopaedic training programs, emphasis is placed on either trauma, joint surgery or on sports medicine. Just as in neurosurgery, there are some orthopaedic surgeons that wish to be specialists in spine surgery.
Similarities Between Both Spine Surgeons
Even though things vary many years ago, recently, there are a several orthopaedic surgeons as well as neurosurgeons that are specialists in spine surgery. Both surgeons are being referred to each as spine Doctors and the distinction between them is gradually fading away. Both orthopaedic and neurosurgeons surgeons specialized in spine surgery and they are trained in the treatments of disc degenerations, disc herniations, spinal stenosis, fractures of the spine scoliosis, slippage of the spine,and so on.
Differences Between Orthopaedic Surgery & Neurosurgery
The two surgeries differ in just few areas. It is only the neurosurgeons that are trained within six to seven years residency training in order to conduct procedures in the lining of the spinal canal also referred to as the the dura.
Conditions like: arachnoid cysts, spinal cord tumors, Chiari malformation, syringomyelia, spinal cord, diplomyelia and diastematomyelia, arteriovenous malformation, spina bifida or myelomeningocele, tethered spinal cord, lipomyelomeningocele, cervical spine, tumors at the junction of the base of the skull and upper nerve root tumors as well as a few other diagnoses that falls under the field of neurosurgery. Furthermore, both adult scoliosis and pediatric as well as other spinal deformities like spondylosis surgery and kyphosis are treated surgically by the orthopaedic spine specialists.