Are you looking for an inspiring collection of novelty cycling gifts? Today, there are more cyclists gifts than ever, ranging from unique and original cycling jerseys to functional components to make the riding experience more enjoyable.
If you want to give someone a great cycling gift that will make him feel so proud, consider reviewing some of the best cycling jersey gifts in the market. Below are five our top picks for novelty cycling gifts that are sure to spark the right recipient.
1. Rosie the Riveter Women's Cycling Jersey
The Rosie the Riveter women's cycling jersey contains an iconic image that was created by Howard Miller. The jersey contains a slogan entitled "We Can Do It" and it represent the 6 million American women who worked in various factories during World War II.
Rosie was a fictional character that was featured in a propaganda-campaign designed by the American Government to entice more women into World War II. Rosie Riveter is commonly used as a great symbol of feminism and strong women economic power. Over the years Rosie has become a great role model of women's advancement and betterment through solidarity. Rosie embodies both positive change and rugged individualism, and inspires us to soar greater heights. Find the Rosie the Riveter cycling jersey and other novelty cycling jersey gifts at Retro2Ride.com.
2. It's Not The Destination. It's the Ride.
"It's Not The Destination. It's the Ride" keychain is one of the best cycling gift that you can give someone who is so personate with bike riding activities. The keychain can motivate one to stay focused on completing a race no matter how far he or she is from the finishing line. This unique cycling gift is available at Etsy.com
3. New Smartphone Bike Mount
The Smartphone bike mount is another great gift that you can give your friends. It allows one to access important riding features such as Google maps, GPS tracking, number of raps and total distance covered with bike. This device is very useful and can be mounted on the bikes handlebars for easier access.
4. The Cycling Handbook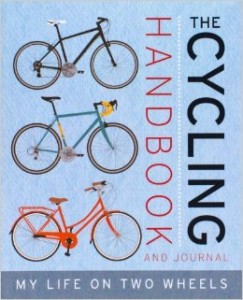 The Cycling Handbook contains everything a cyclist needs to know about all cycling activities. The book can help one to learn how to discover new routes, how to perform first aid and carry out basic bike maintenance. Beside this, the book includes a lot of useful information that can help someone to become a better cyclist. Get the paperback at Amazon.com for $9.99.
5. Cyclodelic Saddle Bag
This amazing beautiful bag can be used to carry valuable items during a ride. It well designed and can be perfectly mounted under the bike seat. There are different colors that one can choose from, starting from: red, pink, green, yellow and black.
With the above cycling gifts, you can put a smile on someone's face by surprising him or her with any of the above gifts. All of the above gifts can be purchased online and you can search for customers reviews to learn more about their durability and special features.