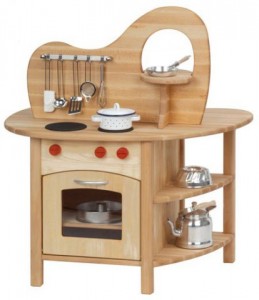 There are tons options that parents are faced with when it comes to investing in play kitchens for their kids. It can be easy to resort to buying less expensive play sets assuming kids will grow out of them in a few years. However, natural wooden play kitchens are a timeless investment that retain their quality and value for decades.
The options that are cheap and available everywhere are the plastic, mass-marketed play kitchens that you find in big-box retailers. The natural options among kid's wooden play kitchen sets are not nearly as popular as they were in past generations. However, these awesome wooden toys for kids have realized an increase in demand as savvy parents are realizing that these options are not only environmentally friendly, but also great for a child's growth and cognitive development in more ways then one.
What follows are three great reasons to choose wooden play kitchens for kids instead of plastic alternatives.
Wooden Play Kitchens Are Natural Toys
Wooden play kitchen sets for kids are typically 100% natural, made from sustainably-harvested wood, and contain no harmful chemicals. This make wooden play kitchens ideal for conscious parents who want to buy toys that contain no potentially harmful substances.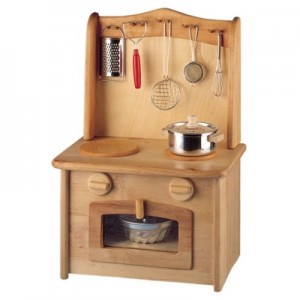 Most conventional play kitchens are manufactured from plastic because it's inexpensive to produce. Additionally, plastic toys can be molded into whatever shapes and colors, making them preferred by most toy makers. The sad truth behind plastic play kitchen sets is that they can contain toxic chemicals that are potentially harmful to kid's growth.
Perhaps you are aware of the culprits of plastic toys: BPA and PVC? These are two chemicals that are commonly found in plastics. BPA (bisphenol A) has raised the eyebrows of conscious consumers after the FDA reported that BPA is potentially hazardous to both fetuses and growing children. As for PVC (polyvinyl chloride), this chemical has been growing in awareness due to its massive (and negative) environmental impact from production to disposal.
Kids wooden play kitchen sets are 100% natural and contain no harmful chemicals. This alone makes natural wooden play kitchen sets for kids a great choice for parents who want to avoid chemical-infused toys for their kids.
Wooden Play Kitchens Stimulate Kids' Creativity & Imagination
Often times, simplicity wins when it comes to toys. It's practical to assume that a young child will not be engaged and entertained without toys that have the flashy lights and sounds that mainstream toys commonly offer.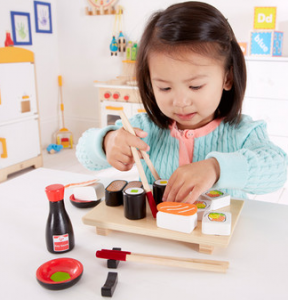 However, the problem with flashy play kitchens is that they don't allow for natural forms of creativity and imagination to spawn. It's easy for us adults to overlook just how liberated and free a kid's imagination truly is. With wooden play kitchen sets, the foundation is set for relentless creative play, enabling their minds to run wild the ideas and possibilities.
With creativity and imagination comes a host of other benefits for growing kids. With wooden play kitchens, kids are more prone to share with others. Additionally, they learn a level of responsibility in cooking, doing dishes, and keeping the kitchen space clean and tidy.
Kids Wooden Play kitchens Are Eco-Friendly
When crafted from sustainably-harvested sources, wooden play kitchens can one of he most eco-friendly options among natural wooden toys for kids. Some of the best types of wood to look for that are used to make natural wooden play kitchens are pine, bamboom, rubberwoode, and other FSC (Forest Stewardship Council) certified woods.
FSC certified wood is labeled as eco-friendly because harvested forestery businesses must pass a stringent certification process that focuses on practices that protect old growth forests, water quality, and precious forest cover. With most wooden play kitchens that are labeled as 100% natural or sustainably-harvested, you can make an eco-friendly investment with your dollars.