Natural wooden toys are one of the best options among mainstream toys for growing babies and toddlers. Why, you might ask?
F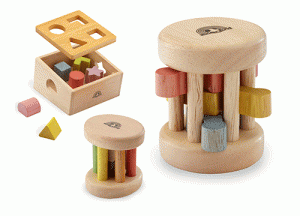 or starters, not only do natural wooden toys host a wealth of benefits for cognitive development and natural learning, but organic and sustainably-harvested wooden toys are safe option that pose no health concern to kids.
But that's just the tip of the iceberg when it comes to the amazing benefits of these simple natural toys made of wood. Below we go into greater detail as to why you might want to consider buying natural and organic toys over popular alternatives.
Wooden Toys Foster Natural Learning
Many parents are drawn to advanced and complex toys that talk, flash bright lights, and quiz our growing toddlers into intelligent human beings. However in many of these types of conventionally-made educational toys, the opposite is actually true.
Although flashy and comprehensive toys of the like do promote engagement, they can inhibit natural learning and development that's derived from creativity, inspiration, and imagination. Natural wooden toys, whether as simple wooden blocks for babies or a more complex wooden kitchen set for growing girls, can foster this type of creative development. Without all the gizmos and gadgets, children are required to use their imagination and think outside the box with limitless possibilities.
Organic Wooden Toys are Eco-friendly
In addition to supporting the healthy growth of your baby or toddler, natural and organic wooden toys are sustainable and good for the environment. Often derived from bamboo and other natural hardwoods, these types of wooden toys for kids are sustainably-harvested, meaning minimal environmental impact. For some parents, this is a very important aspect of buying toys.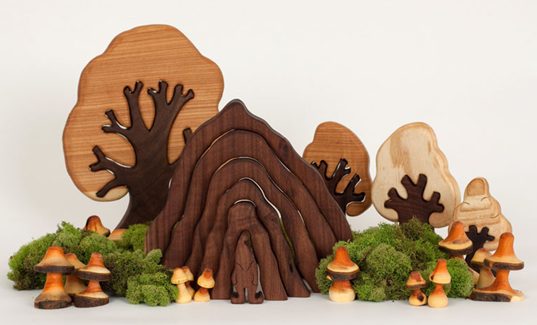 Shopping Natural & Organic Toys Supports a Greener Planet
While natural and organic toys are starting become more popular in big box retail stores, most of these products are found in specialized local boutiques and select online stores. For the latter, many of these online retailers of natural and organic toys give back to the environment via donations and other various green initiatives. And for the former, shopping local and buying from small businesses and specialized boutiques is always a good thing, especially for a local economy.
For instance, check out this craftsman who operates a small business that sells natural wooden toys for kids. This is prime example of how shopping local or specialized stores for natural toys is a win in more ways than one:
So not only are organic baby toys healthier for growing children, but they help support a green environment as well as a growing economy.