Assisted living facilities generally provide living arrangements in environments that are almost similar to those at home. Depending on the assisted living facility, they may consist of individual apartments and/or rooms in which residents can either share or live alone.
Nonetheless, the common services that are usually provided in such assisted living facilities include (but are not limited to the following):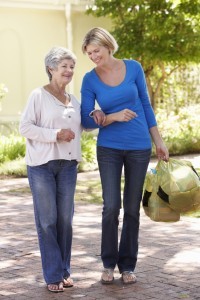 1. Housing, special diets and nutritional meals
2. Mental health services
3. Personal care (assistance with bathing, movement, dressing or eating)
4. Leisure and social activities
5. Respite care
6. Arrangement for healthcare services
7. Monitoring of health
But these are not the vital aspects as titled in this article. If you're truly interested in an assisted living facility over in-home care services and other services, then see the attributes we detail below.
The 7 Vital Aspects of Healthy Assisted Living Facilities
Before considering an assisted living facility, there are several factors that should be considered. Below we highlight the 5 vital aspects of healthy assisted living facilities.
1. Conducive Environment 
Ideally, an assisted living facility should have an outward appearance and location that is beautiful, whereas the lobby ought to be homelike and equally attractive. The staff should be kind enough to offer visitors and residents kind greetings, and their interaction with residents should be warm.
A good assisted living facility is one in which residents freely socialize with their peers. Additionally, they should appear to be generally comfortable and happy.
2. Proper Food & Nutrition
An assisted living facility ought to provide three nutritionally-balanced meals daily (for every day of the week), snacks as well as special foods on request/ accommodate individual dietary needs.
Depending on residents' needs and preferences, the meals should either be provided in common dining areas or taken to rooms.
3. Appropriate & Adequate Infrastructure
It's advisable to choose an assisted living facility that has the following physical facilities; an easy to follow floor plan, doors/ rooms/ hallways that can accommodate wheelchairs, elevators and hand rails that aid those who have difficulty in walking, easy-to-reach shelves and cupboards, floors made of non-skid material and sufficient lighting (both artificial and natural).
The facility should also have security features such as fire extinguishers, clearly-marked exits and smoke detectors.
4. Excellent Recreational & Social Activities
There should be sufficient proof of organized activities such as; posted daily schedules, visitors, on-going events and reading materials. Residents should be encouraged to actively participate in recreational activities.
The assisted living facility should either have its own pets or allow residents to come along with theirs.
Family members and other volunteers should be encouraged to visit and help in conducting certain programs on a regular basis.
5. Residency Agreements, Needs Assessments, Finances & Associated costs
A good assisted living facility should have a comprehensive residency agreement as well as a written plan-of care for every resident.
It should have a process of assessing and meeting individual needs of each resident. It should also have government, corporate or privately-sponsored programs which help in covering the costs incurred by needy residents.
6. Satisfactory Services & Amenities
The facility should ensure that employees are always available to provide assistance with daily living activities such as; dressing, toileting, eating, bathing, mobility, grooming and hygiene, among others.
7. Excellent Health Care & Medication
Ideally, a senior assisted living facility should have specific policies concerning storage of drugs, record keeping, supervision and training of employees. The facility should also have policies regarding administration of drugs, coordination of visits by healthcare personnel, response to medical emergencies as well as availability and/or extent of supplementary services.
Because more personalized programs, like home care Peoria, is not an option for some families, assisted living offers a sound solution. Before admitting your loved one into an assisted living facility, it's important to ensure that the facility has or provides; a conducive environment, proper food and nutrition, appropriate and adequate infrastructure, excellent recreational and social activities, satisfactory services and amenities as well as excellent health care and medication.