There are an overwhelming number of options when it comes to cycling jerseys for women. But if you're looking for something unique, original, and perhaps vintage/classic, then Retro2Ride.com is good place to start. Well known for its exclusive and creative designs, Retro2Ride.com offers a lot of unique and stunning cycling jerseys for women, making them standout among the rest. 

Aside from artistically-designed and thematically-schemed cycling jerseys, Retro2Ride.com also addresses the rigorous demands of high-end cyclists as far as comfort, performance, and durability is concerned. As a result, you can find fashion-forward women's cycling jerseys that don't sacrifice quality and performance.
To give you an idea of some of options that Retro2Ride.com has to offer, below we feature three stunning cycling jerseys for women that you can buy right now on the company's website.
Monarch Women's Short Sleeve Cycling Jersey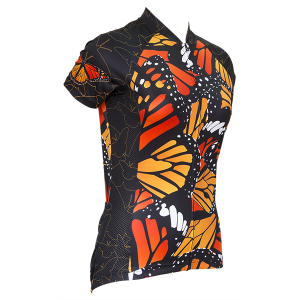 This cycling jersey emphasizes the vibrant and beautiful orange and yellow wings of a Monarch butterfly. The front and back have the overlapping wings of the butterfly; the colors yellow, orange, white, and black are contrasting and at the same time complementing each other.
This creative cycling jersey also has the outline of Monarch butterflies in different sizes on its side panel; yellow outline on black background which gives emphasis on the butterflies. And an entire small image of the colorful butterfly is elegantly placed on each of the sleeve. This cycling jersey is inspired by nature.
Balloon Women's Sleeveless Cycling Jersey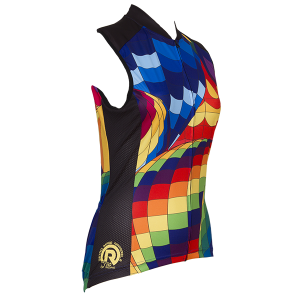 At a glance, you will have the first impression that it is an abstract design, but as you look at it in all angles you will be able to figure out that this cycling jersey is patterned with various designs and colors of interlocked hot air balloons. All of the rainbow colors are present in different shades: red, orange, yellow, green, indigo, blue, and violet.
The balloon pattern on this women's sleeveless cycling jersey stands out like elegant quilted squares (like that of hot air balloon.) It also has a variety of patterns such as colorful zigzagged lines and diagonal lines. From afar, the jersey looks like a pixelated rainbow that has a warping effect above it. It is indeed a cool design that will surely stand out as one of the most unique and creative cycling jerseys for women.
Chat Noir Women's Short Sleeve Cycling Jersey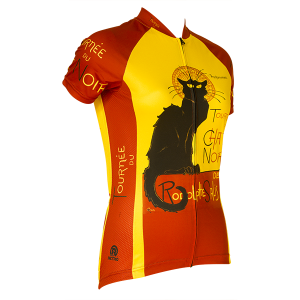 Le Chat Noir is a French term for "The Black Cat" and was a famous cabaret in Paris. This design is inspired by an 1896 poster, made by Salis, that advertised the tour to other cities of Le Chat Noir's cabaret entertainers. The Chat Noir cycling jersey has the fierce looking black cat, with a yellow background and rustic orange at the bottom and side panels.
It has the exact words on the poster "Tournee du Chat Noir de Rodolphe Salis", same words are also on the sleeves and sides of the jersey. As one of the most popular women's short sleeve cycling jerseys, this design was used by the company to celebrate the golden era of creativity. You will definitely love this because it is classic and is a mark of artistry.
These cycling jerseys have unique and creative designs indeed. It is also comfortable to wear because of the soft Euro-mesh fabric and quick dry technology that they use for their jerseys. It has silicon gripper band rear that ensures the jersey is in-place as you enjoy your ride. You do not have to worry of the colors fading especially that you have to wash it often because they use dye-sublimation printing. These are just some of the outstanding reasons for you to consider buying cycling jerseys from Retro2Ride.com.